As technology gives us the freedom to work from anywhere, more and more people are prizing the ability to do so.
Many companies are responding with flexible work schedules, and seeming to acknowledge the trend, the Department of Labor just announced that in 2017 it will resume its contingent workforce survey, which was last conducted in 2005.
Each year, FlexJobs compiles a list of the 100 companies that posted the most work-from-home jobs (a.k.a. remote, telecommuting, virtual jobs) over the last year. Based on an analysis of the over 40,000 companies in the FlexJobs database, FlexJobs has found the 100 companies with the most remote job postings in 2015. These companies posted the most telecommute-friendly jobs from January 1 – December 31, 2015.
Telecommute-friendly refers to listings that offer some level of telecommuting (the levels on Flexjobs.com are 100 percent, mostly, some, or optional telecommuting). Job seekers, if you're interested in finding a remote job this year, FlexJobs says "it's a good bet that these will be some of the top companies with remote jobs in 2016."
Below is The third annual list of the 100 top companies to watch for remote jobs in 2016. These companies, having posted the most work-from-home jobs in 2015, are at the forefront of telecommuting and remote workforces.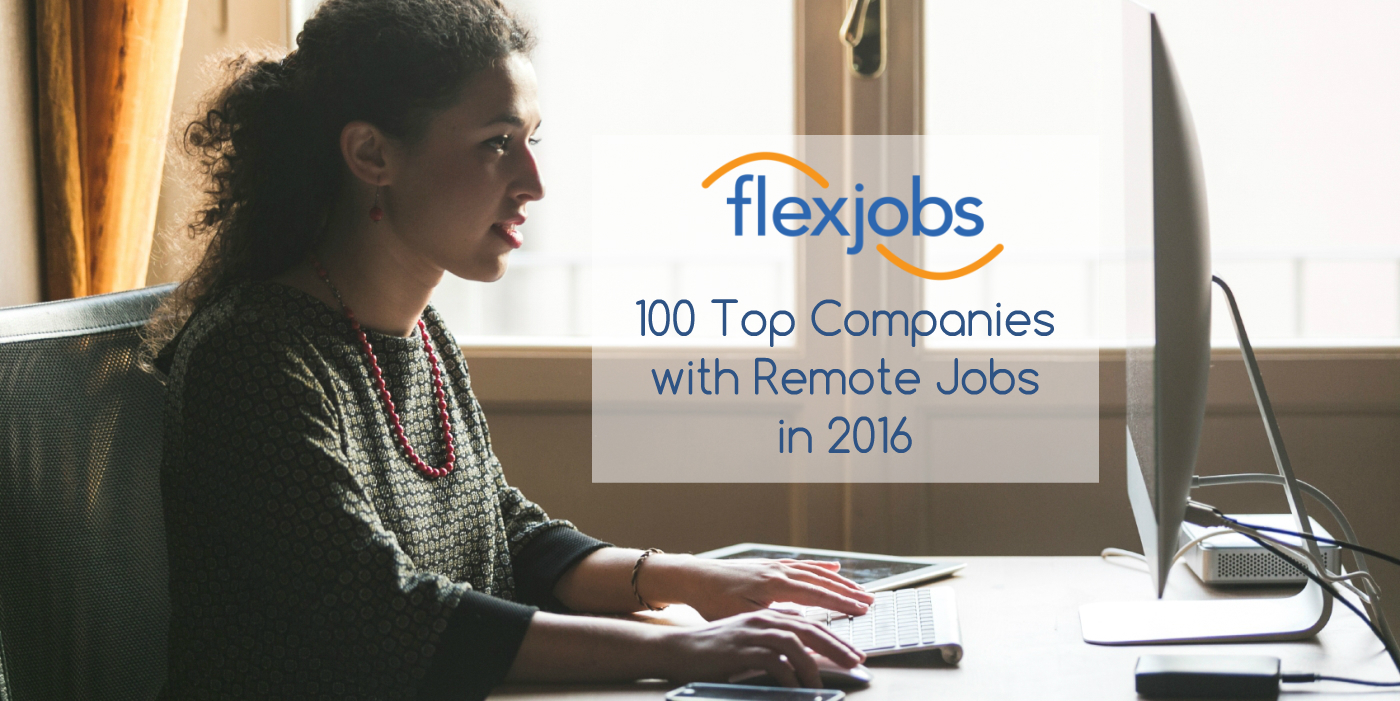 Visit Flexjobs.com for more information
The 100 Top Companies with
Remote Jobs in 2016
(1-10)
For more than 50 years Humana has been a proven leader and innovator in the health and wellness industry. A passionate emphasis on people, choice, well-being, and innovation guide Humana business practices and culture. Humana is not just a health insurance company. Their diverse lines of business position to serve millions of people with a wide range of needs, including seniors, military members, and self-employed individuals.
Humana is seeking innovative young professionals who are passionate about making a positive change in the lives of others. Humana recruits undergraduate and graduate level students for internships and full-time opportunities.
If you are an individual with a disability and require a reasonable accommodation to complete any part of the application process, or are limited in the ability or unable to access or use this online application process and need an alternative method for applying, you may contact
mailbox_tas_recruit@humana.com
for assistance.
Search Humana Jobs:
Click Here!
***Recent awards and recognition***
"I've got the best job in the country; Humana has been my home for 18 years! I am a pharmacist by training and have been able to succeed in a business world that's built around healthcare."
-
William Fleming (President at Humana Pharmacy Solutions)
LinkedIn
Facebook
YouTube
1. Teletech
2. Convergys
3. Sutherland Global Services
4. Amazon
5. Kelly Services (2nd Year)
6. Kaplan FlexJobs (2nd Year)
7. First Data (2nd Year)
8. IBM (2nd Year)
9. SAP FlexJobs (2nd Year)
10. Westat (2nd Year)
2014
Results
1. Xerox
2. UnitedHealth Group

3. Dell

4. Aetna

5. American Express

6. First Data

7. Humana

8. Westat

9. K12

10. ADP
For more information please visit FlexJobs.com